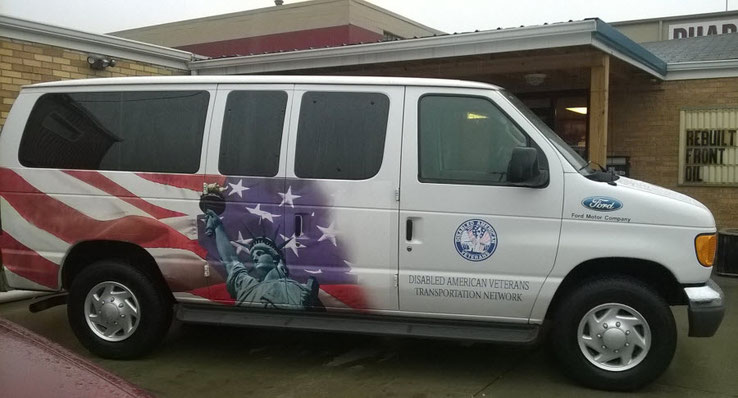 By RONDA GREGORY
News & Journal Staff Writer
   The Statue of Liberty with her torch held high is back on the road again - the proud Lady Liberty that's painted on a repaired 2005 E-350 white Ford van, that is.
   With her torch blazing brightly and the Stars and Stripes as her backdrop, she's rolling along some town and county roads greeting her precious passengers - our West Virginia American veterans - with her specific brand of patriotic gratitude and comfort, thanks to a Clarksburg auto repair shop's owner and employees. 
   Monday at CMR Rebuild, Inc., about 20 veterans and others met at the North Ohio Avenue business as owner Charlie Sawyers handed the torch ... or keys, rather ... over to Emles "Bo" Baker, which will get the repaired-for-free van back on active duty for West Virginia veterans in 22 counties served by the Louis A. Johnson VA Medical Center. 
   Baker, the center's volunteer Hospitals Service Coordinator and U.S. Army veteran, gratefully and gladly accepted the van keys from Sawyers so this van can once again serve veterans by providing transportation from their homes to their doctor and other medical visits at the center and home again. 
   "I know the reason they did this," Baker said, referring to Sawyers and his crew caring about the veterans so much so that they made fixing this van a special giving-back-to-vets project. "And they know we appreciate it."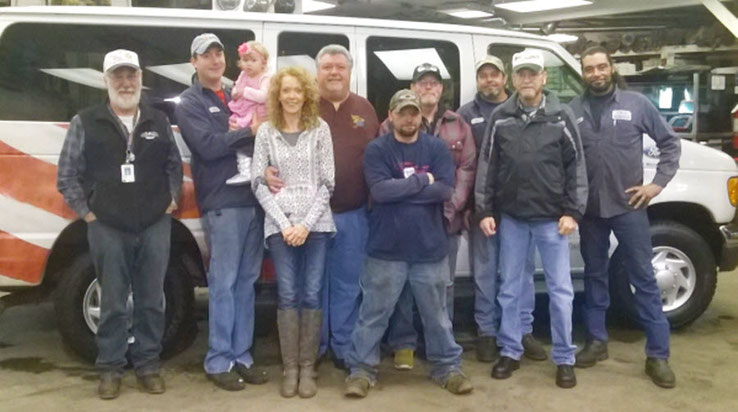 The van had been one of 22 vans in the center's "Disabled American Veterans Transportation Network" fleet when the transmission started acting up and the van had to be (temporarily) decommissioned, Baker said. "It was a safety issue."
   Sawyers said they installed a brand new Jasper transmission that has a three-year, 100,000-mile warranty.
    "I handed him the voucher for those, too, along with the keys," Sawyers said grinning.
   Baker explained that while the center and its transportation services fully served the veterans' needs when the van was out-of-commission for five months, they're very pleased to have it back in the pool. Most of its vans have a smaller capacity- about a five-to-six passenger space, he said. 
   "A big van like this comes in handy, especially when you have a lot of veterans coming from a certain area," Baker said. "You can make one roundtrip, instead of two."
   Sawyers said that the center didn't have money in its budget at this time to repair the van and were going to get rid of it. When a couple of his employees, who are veterans themselves, and he heard about the then-broken van, he said, they all decided they wanted to do something to help, and all labor and parts were donated free of charge. 
   "We owe it to our veterans," Sawyers said. "It's because of them we can work and live in a free country. Thank God for the veterans."
   Sawyers said he was touched at the event when he saw one of the volunteer drivers "have a tear in his eye".
   In addition to installing a new transmission, Sawyer said they wanted to make sure the veterans ride in the respectful style they deserve. 
   "We also detailed the van, replaced the windshield wipers and oil filters and even replaced a missing hubcap," he said. "We shined 'er up," Sawyers said. "I wanted this thing to look sharp." 
   With their smiles and nods, the veterans and others at the event confirmed that the revamped van does indeed.